WELCOME TO
Sell What You Know™
Learn how you can set up and grow a successful online coaching business.
How we look after our clients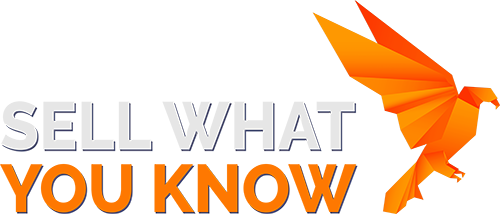 We guarantee that you will AT LEAST make back your investment in us. PLUS, we guarantee we will keep working with you until you are making at least £10,000 per month in revenue.
We genuinely care about the success of every single one of our clients. So much so, that we guarantee that success….twice. We have two guarantees on your success.
All we ask is that you complete the program and follow our advice.
We truly believe that having a mentor who has achieved what you are aiming to achieve is the quickest and most effective way to reach your goals and get your business to the desired level.
Our area of expertise is helping coaches, mentors and consultants to build a business they love. To get more of the clients they want to work with at a price they are truly worth. We typically work with working professionals in their 40's and 50's (although not exclusively) and we help them to grow discovering their hidden superpower and turning that into a successful online coaching business.
We offer comprehensive training with a wide range of marketing, sales and fulfilment to maximise the success of our students.
We work with a small group of select clients over a 14-week window to ensure we are able to give our students the close mentorship they need to progress and succeed with their businesses. It is a workshop environment designed to get coaches and mentors to their goals.
We work with you every day on any area of your business that you wish to focus on. From developing your offer to your clients, creating free value and funnels, digital advertising, effective sales and how to deliver a great training program to your clients.
With the Sell What You Know™ Mentor and Success program, you get direct access to Alex and the team and all of their many years of experience and expertise, directly applied to your business.
Our mentorship program, known as the Sell What You Know™ Mentor and Success Program, is based on the 5 main pillars below that are designed in a specific way to help our clients solve the biggest problems in their businesses:
Create a Valuable Offer™
Build Trust Online™
Marketing Made Easy™
Authentic Client Acquisition™
Great Customer Experiences™
We only accept a limited number of students that we teach privately and it is extremely important that we feel that we are a good fit for each other in all ways.
We love truly helping our students but we have realised that it's always best when we have matching values and the same work ethic together.
To start your journey, hit the button below to register for our next offer building workshop.
What People Say About SWYK
£35000 In First 3 Months!
"Name Your Price" - No Ads!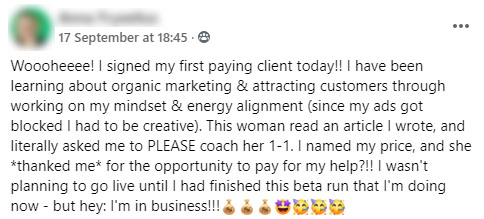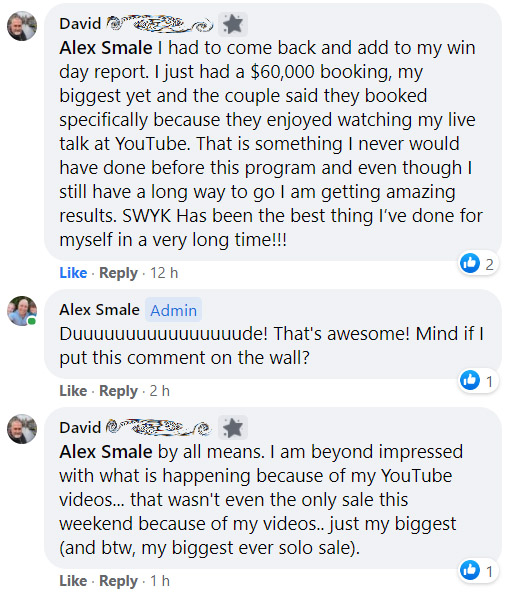 Quit Their Job Thanks To SWYK!

First 2 High-Ticket Clients!
International Award Plus 6 Clients!
£25k In 2 Weeks With No Ads
£15000 Per Month In 5 Months!
First High-Ticket Client!
£1500 Per Day After 2 Weeks!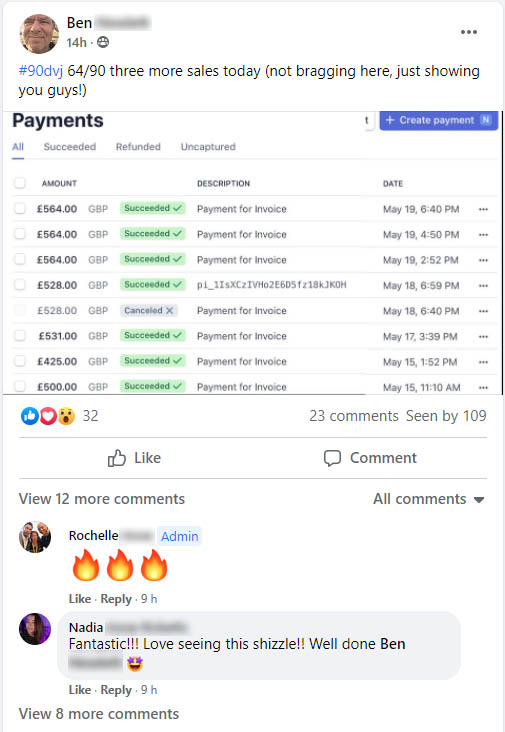 "SWYK Has Changed My Life Deeply"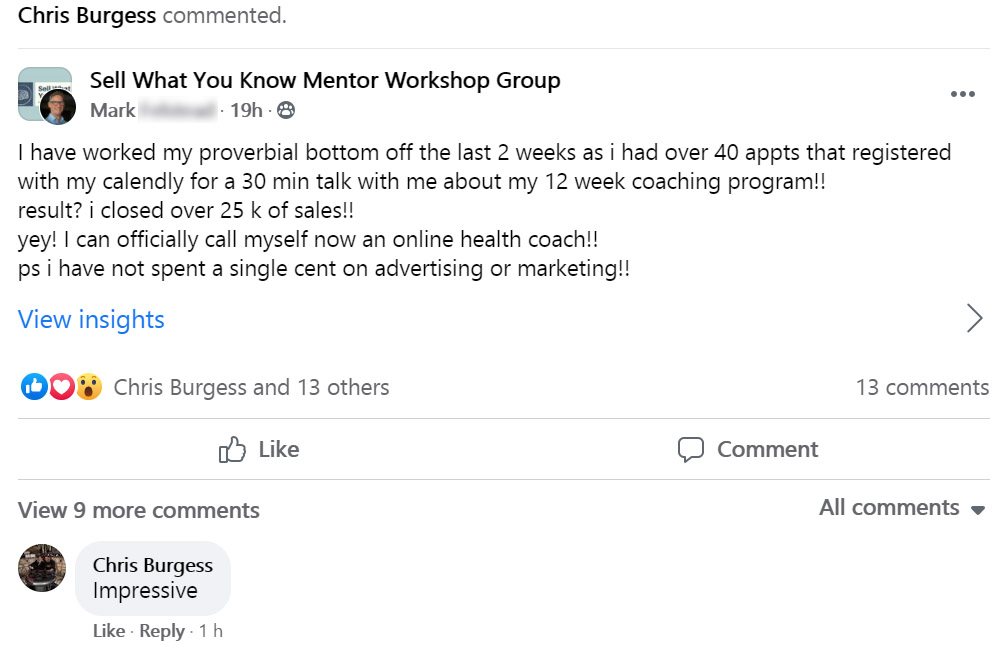 $21k In 3 Weeks From Challenge
Access the online course materials at your leisure, 24/7 from anywhere in the world, on any device.
Work at your own pace, on your own time.
Connect with other students in the program from all over the world.
Share new knowledge, ideas and support.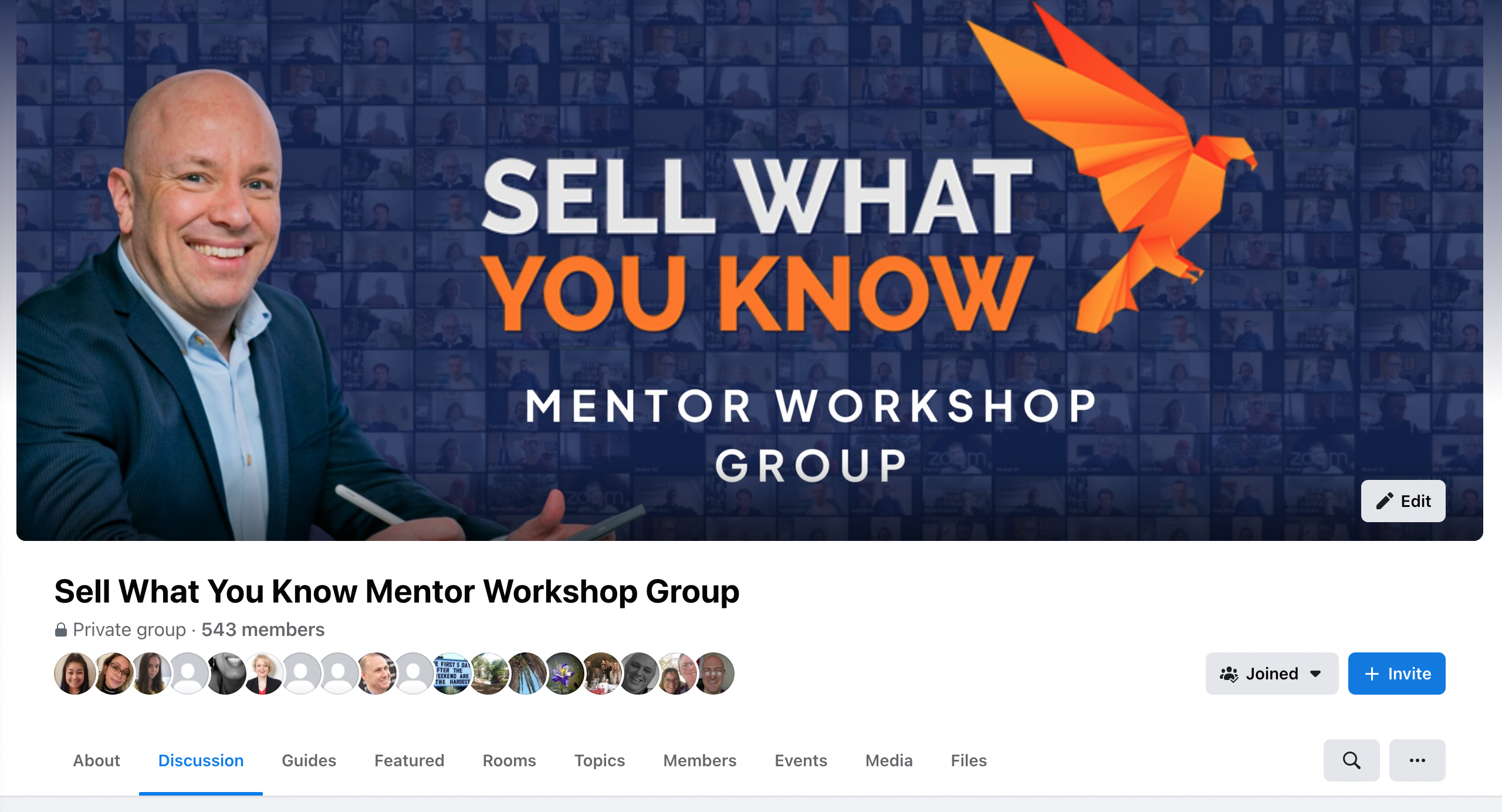 Get regular, direct support from our team of expert coaches and other students every week.
Current calls include helping you with your offer and audience, sales and copywriting and marketing.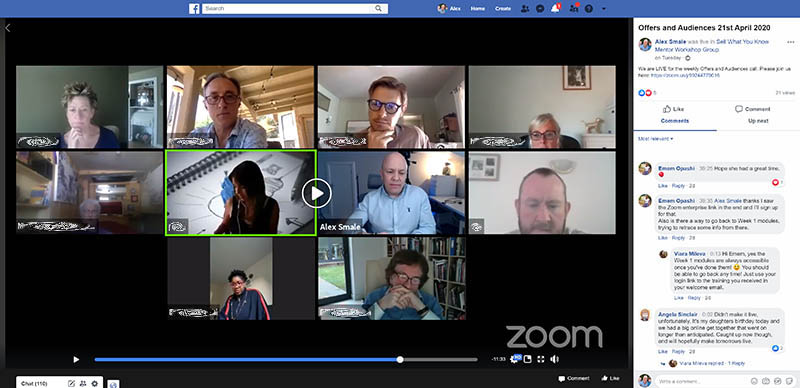 Never be stuck with our online support.
If you have any questions or challenges as you build your coaching, mentoring or consulting business. Our team of support coaches are here to help you.
Some Advice If You're Considering This
A common limiting belief we hear from people thinking about becoming an online coach is that they're not good enough.
Nobody will pay a lot of money for what they do. That they need to have some qualification or something.
In this video you'll learn why none of that is true.
Here's Why You Don't Need To Figure Out Your Offer First
You might be thinking that this all sounds great. But you need to figure out what you're going to offer people first.
Not the case.
In this video, Alex explains what you really need to be focussing on right now.
Here's Why NOW Is Always The Right Time To Start
Is there any such thing as the perfect time? No, of course not.
In this video, Alex explains when the perfect time is to start your online coaching adventure and why.
Here's Why You Shouldn't Try And Figure It Out On Your Own
In theory, everyone can figure everything out on their own.
But is that a good idea? Probably not.
Alex explains why in this short video.
TWO Guarantees Of Your Success
We're so confident in our program, our abilities as coaches and our methods, that we offer a full money-back guarantee AND we guarantee we will keep working with you until you're making at least £10,000 in revenue every month.
What that means is, if you invest in us and our program and you don't see a return on your investment in us. Then we will give you back what you paid us. And it also means we won't give up on you until you've got the success you came to us for.
How does it work?
All we ask that you complete the program and all of the action points within it by the agreed time frame of 4 months. And then run your coaching business as per the methods in the program for six months. Which is a fair amount of time to give your business a chance to get off the ground.
Typically though, people are achieving success FAR faster than that. Often within the first month after launching.
If after that time your business revenue has not exceeded your investment in the program fee, then we will refund you the amount you paid us in full.
We offer this guarantee because your success is everything to us. It has long been our CEO's philosophy that if you come to us for a result and don't get that result, we have no right to keep your money. So we don't.
For us, it's really that simple.
You don't buy training from us, you buy a result.
What Are The Costs In Doing This?
​The Sell What You Know™ Mentorship program is designed to get you to £30k per month in revenue.
Not profit. Revenue.
'Designed to'. Not 'will do'.
Please be aware that this is not a guaranteed level of income or even probable because your success depends on you and your actions.
We can guarantee that you will at least see a return on your investment in us if you follow our training and process. But the rest is up to you.
Of course, no business generating that much revenue comes without investment. And we're sure you're keen to know the complete picture of what that looks like.
With us, the investment has two sides. Firstly, your investment in us to show you the tried and tested path, coach you and help you at every step of that journey. That investment will depend very much on your needs.
The second side is much more dependent on your choices and the path you wish to take. The investments in your business itself.
As we hope you understand, no business runs on thin air. There are overheads. BUT, the overheads with online coaching are relatively tiny and often very quickly covered by income.
Typically though, it looks something like this:
Tools and software: Approx £150/$200 per month
Marketing: £300/$400 per month to start off
With the tool's side, we have our own platform, SWYKTools, which provides all of the functionality and quality at a very affordable rate of £149 per month. Plus, we give you a month for free, which should be enough time to get your first clients. And you won't need to get that until you're set up and ready for the most part.
Also, you won't need to find the marketing budget upfront. This is usually done at £10 per day or so, and the ad platforms will usually let you spend a fair amount of that before charging your card.
With marketing, we will teach you both paid and organic strategies, so it is possible to market your business without cost. But please understand that you will need to invest your time instead. And it will take longer.
You might choose to spend money on other things such as equipment or ancilliaries. Which is entirely up to you. We only recommend spending about £20 on a microphone from Amazon to make sure your sound quality is good. And some people might want to spend up to £100 on lights (but not essential). Anything after that is going to be down to your own personal choices.
The idea is to keep your costs as low as possible so that your profits are as high as possible. Just like any other business.
As your business and revenue grows, you should be reinvesting as much of your profits as possible to help you to scale.
If you do end up making £30k per month, understand that to achieve that, you will likely be spending at least £10k per month on advertising to achieve it by that point. You can watch an episode of the Sell What You Know Show >>>HERE<<< where I break down what that looks like.
That might sound scary. But it is a gradual path to get there. One that we will help you to navigate. And that represents a 300% return on investment which is pretty incredible. Plus, that's a return over a couple of weeks. Not per annum.
But again, to be VERY clear. Only the people who don't quit make it that far. It takes hard work, resilience, belief and dedication. But we've got your back all the way to £10k per month.
And of course, the other thing you will need to invest is some time. How much really depends on you. But I can assure you it's a hell of a LOT less than working 45 years, Monday to Friday, 9-5 (which is about 86,400 hours, not including the commute).
No, this is going to need more like 1 to 2 hours a day for two to three months to get setup. Some will do it faster than that, some will do it slower.
You need to be able to follow instructions carefully, reach out for help if you need it, execute consistently, willing to take risks, resilient to failure.
There will be dark days ahead that you will need to push through.
If you're serious about changing your life and you can do those things above, then you have a good chance. If you are willing to trust us to help you, then we won't give up on you until you are on the road to success.
Are you ready?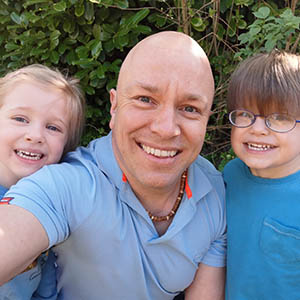 ​Alex Smale has been a coach and digital marketer for over 15 years. He has coached and mentored thousands of students all over the world on how to be more successful online.
He has always been a technical expert, programming his first computer game aged just 4. He began digital marketing at the dawn of the social media age working in a variety of sectors including leisure, ecommerce, affiliate marketing and photography.
Alex now dedicates all of his time to the clients and team at Sell What You Know™ helping them to have a positive impact on the world by helping people to overcome the problems and challenges they have, with the knowledge and experience you have.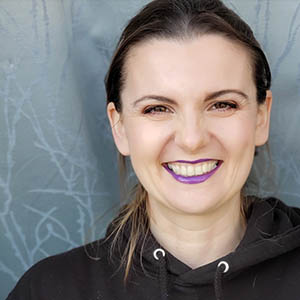 After over a decade spent writing academic papers, Viara broke free of the ivory tower and became an entrepreneur (first photographer, then copywriter and business coach).
Coaching other entrepreneurs on how to launch and scale successfully is her passion.
BEWARE: She WILL ask you about your avatar. Viara lives on a hobby farm with her husband and three kids, plus a menagerie of animals.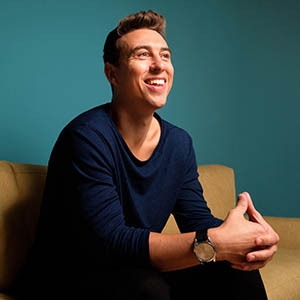 Ali Temple is a qualified and accredited coach specialising in mindset and peak performance. He is also a published co-author of the business handbook, How to Win & Keep Clients.
He coaches clients all over the world as well as runs an online membership focussed on happy healthy living.
He helps online coaches to master the very best coaching skills so that they can go on to get great results for their clients consistently.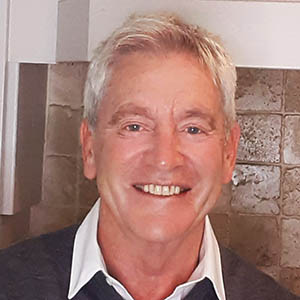 Versatile presenter, actor and voiceover artist Alistair has turned his talents to practically every area of the entertainment business. He is in demand for television, acting, radio, commercial and corporate presenting.
Alistair uses his vast experience to coach and mentor individuals in the art of presenting. Helping them to be more engaging on camera, produce better ads and course materials and to be more outwardly confident.
Known internationally as 'The Instagram Queen', Holly is an Instagram expert at the top of her game.
Holly will help you to rapidly grow an authentic and engaged Instagram audience the right way, without bots or black-hat strategies.
And then, how to turn this awesome organic audience into happy, paying clients.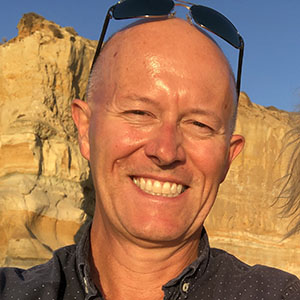 Greg has been a full-time digital marketer, working entirely online since 2010. During that time, he's coached 1000's of students worldwide, helping them build successful online businesses. He has extensive knowledge of digital marketing and online advertising and has used that experience to create several profitable digital enterprises.
As a former software developer for a large financial corporation, he's a technical expert in all aspects of digital marketing.
He is the co-author of "Living A Laptop Lifestyle" with his wife Fiona, and when they're not travelling the world together, they live in the sunny Algarve in Portugal.
Fiona has solid professional ethics practising as a Chartered Accountant for 25 years. She's translated those skills into building several successful digital businesses with her husband to escape the corporate rat race, control their destinies, and experience the freedoms of most people's dreams. Having built profitable online businesses from scratch, she understands the mental aptitude necessary for success and engenders this in people wanting to switch from employee to entrepreneur.
Believing numbers were her strength and not words, she battled her demons to write their best-selling, triple-award winning book, "Living A Laptop Lifestyle". This lesson provided her with unwavering insight into how limiting beliefs hold people pointlessly stuck.
When not globetrotting the world, they reside in the Algarve, Portugal, where life is an endless holiday.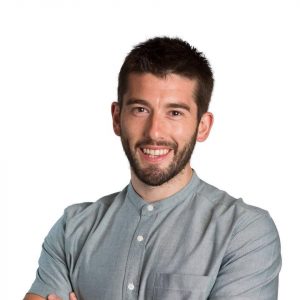 Jay Williams is an accredited Mindset & Transformation Coach, speaker and trainer who specialises in working with Business owners to overcome the mental blockages and limitations that hold them back.
He runs online coaching programs for individuals from all over the world designed to help the create the level of impact, income and freedom they want!
Jamie's focus for everyone at SWYK is to help them to turn their LinkedIn profile into a lead generating phenomenon. Jamie's grown a 6 figure coaching business himself using LinkedIn and has generated nearly £1 million of leads generated for his clients. Jamie's coaching style is fun, engaging and about taking action. So if you want to lean how to use LinkedIn and you also want to have a laugh, come along to Jamie's LinkedIn Clinic!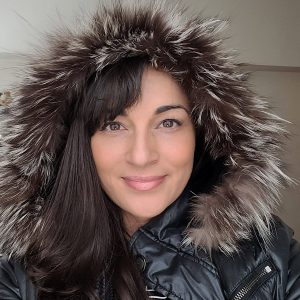 Lewina has been a survey design and communication expert for nearly ten years, designing survey questionnaires relating to both customer experience and employee experience. In the context of the SWYK program, she is able to help you design a questionnaire that will motivate potential clients to book a meeting with you, whilst also helping you get the information you need to qualify how good a sales lead they are.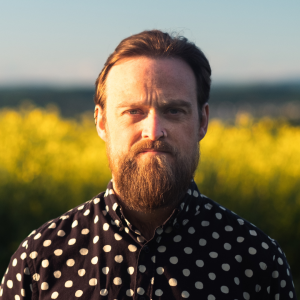 Andrew is a former English teacher turned digital marketer & copywriter for transformational coaches.
After studying under some of the world's top direct response copywriters, Andrew developed his own unique approach he calls "Aww Yes Copy" — blending tried and tested copywriting principles with inspirational & empowering stories that motivate prospects to get off the fence and invest in themselves.
Andrew has worked with dozens of coaches in various niches to grow their audience and scale their businesses through high-converting copywriting.
Over the last 5+ years Brian Mead has worked with 100s of 6, 7, and 8-figure business owners across dozens of different industries.
He's written thousands of ads, 100s of webinars & has helped his clients generate over 8-figures in revenue/profit.
And now it's your turn!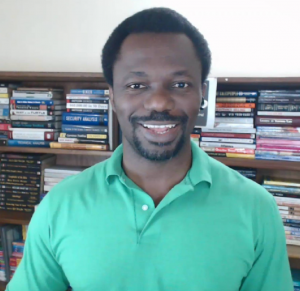 Sam has been involved in sales across different industries for several years.
He has trained with the leading authorities in the field of sales, persuasion and human psychology. He helps people become aware of what they need to solve their problems and make decisions to invest in the right solutions for them.
He will help you create and fine tune your sales process so that your prospects enjoy your enrollment conversations and cheerfully become long term paying clients.
What People Say About SWYK