Sell What You Know Reviews
We're incredibly proud of our clients and the results they've been able to achieve through our exclusive mentorship program. Here's just a handful of reviews about working with Alex Smale and the Sell What You Know team.
Check out their comments, testimonials and amazing transformation stories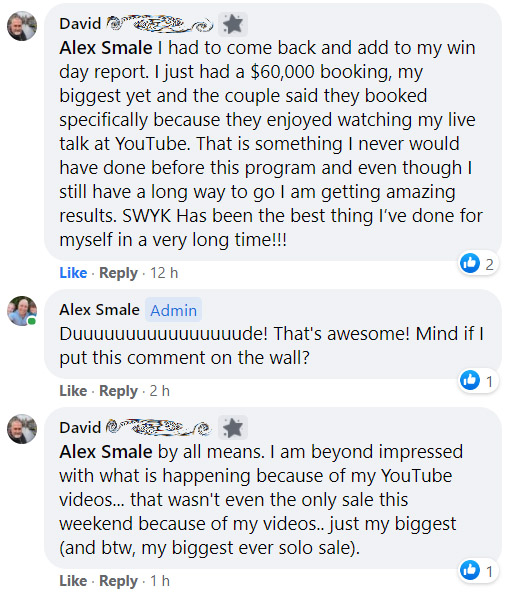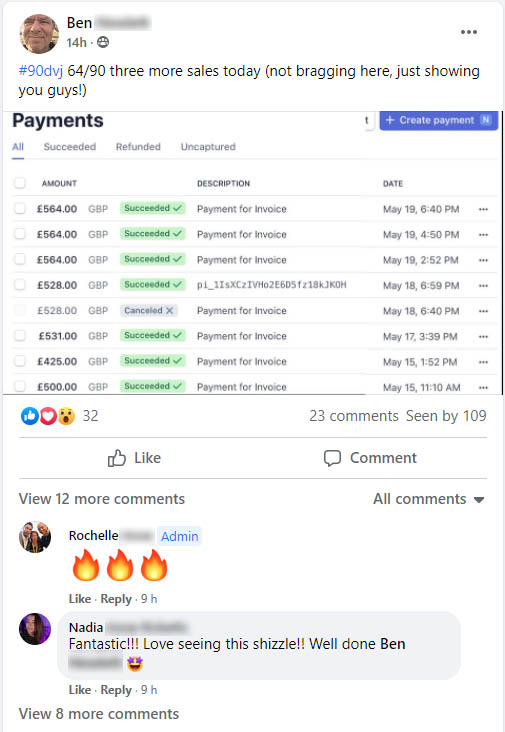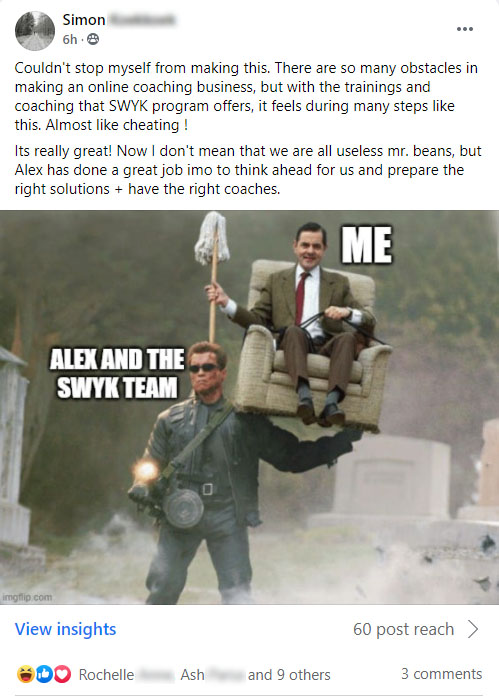 Please Beware Inauthentic SWYK 'Reviews' or 'Scam Checks'
It saddens me that I even need to have this section on our website. But unfortunately, we do.
In recent months we have noticed several fake 'reviews' and 'scam checks' appear about Sell What You Know on unknown websites.
Thankfully, they are easy to spot.
For some reason, a few people (with little or no integrity) think it's ok to create non-genuine, negative 'reviews' or 'scam checks' about a reputable business. Or they like to give an unfounded opinion about the likelihood of success in order to direct unaware people, who are nervous about making the wrong decision, towards their own product or service.
In other words, they create a page that will come up in a search on Google if someone is researching a legitimate business such as "SellWhatYouKnow.co Is It A Scam?". This will naturally entice anyone doing their research to click.
And then on that page, they will then write an unfounded review without having been a client, and imply that said business gives little or no chance of success. And then they will suggest their own product or service instead for that person to buy.
Frankly, I think this is an absolutely appalling marketing tactic.
So if you see a 'review' or 'scam check' about SWYK that leads to a 'don't do that, do this instead' or 'here's an alternative' message or promotion at the end. Or you see a 'scam check' website peppered with banner ads and other promotions. You can be fairly sure that information is not genuine, and hopefully, it's easy to see why.
Those people have never been, nor will ever be clients of ours. They have no concept of our program, how we help people, or the results we help people to achieve.
So if you are seriously considering working with us. That's awesome! By all means, do your due diligence. We want you to come into this feeling safe and confident.
But please only refer to legitimate, reputable review sites when making your decision.
TrustPilot is probably a good place to start with that, as they verify their reviews with proof of purchase.
So you can be sure that every review on our TrustPilot page is from a genuine person who we have actually worked with.
Also, hopefully it's obvious to see by the raw, unedited nature, that the testimonials above are all genuine.
Yes, we have blurred out the surnames. That's not because we have anything to hide. It's simply because this is the internet. We care a LOT about our clients and we don't want them to be hassled by the thousands of people who encounter our business every day.
I hope you understand.
Thank you.
Alex
Wouldn't It Be Great to Have More Clients?
We are passionate about helping coaches, mentors and consultants to grow and create the best strategies to scale their businesses and never need to struggle with obtaining their ideal clients again. Click the button to schedule in your free strategy session and learn how we could help your business thrive.